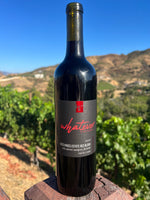 NEW FALL RELEASE
2020 BEES KNEES ESTATE RED BLEND
Harvest this year was quite the experience for us as vineyard owners. Read all about our story on the back of the bottle while sipping on what we call the Bees Knees Blend!
Get your buzzz on here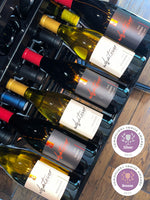 Sommeliers Choice Awards 2023
The top two questions that sommeliers will be attempting to answer as they judge wines during this competition is: "Would we stock this?" and "Will the consumer buy the 2nd glass?" We love that Whatever Vineyards 2019 Syrah and 2020 Viognier answered YES for both, bringing home a Silver and Bronze award. 😍
MIXING THINGS UP
Whatever Bourbon was invited to compete in the 2023 Best Cocktails Spirits Competition held in New York this last September. Along with a list of other great quality spirit brands, we were pleasantly surprised that Whatever Bourbon took home a gold medal win!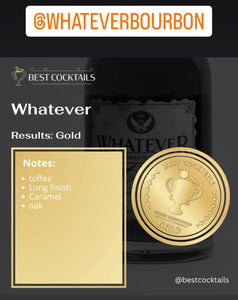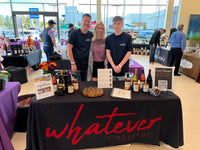 Thank you for the support!
We want to thank all of our family and friends who have supported us along the way! We are so grateful for the lovely opportunity to share the Whatever Vineyards story with our local community. Follow your passion and good things will always come. ✌️❤️🍷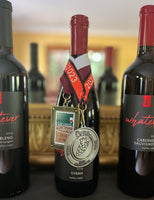 Award Winning Wine from the O.C. Wine Comp
The 2023 Orange County Fair Commercial Wine Competition was held in June. This competition is the largest and most comprehensive judging of California wines in the world. Only wines produced from grapes grown in California are able to compete. Each year approximately 90 judges taste over 2,900 wines, with over 130 varietals and styles in categories classified by price and sugar level. We're proud to announce that our 2019 Syrah was one of them!
See OC Fair results here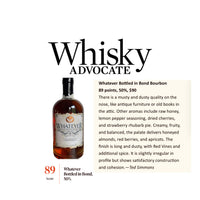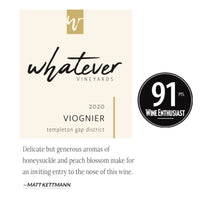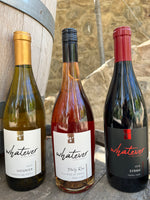 Whatever Vineyards Tasting Trio
A perfect trio for wine tasting! Try our White, Rosé & Red wines now available:
2020 Viognier
2020 Totally Rosé
2019 Syrah
Shop all Wines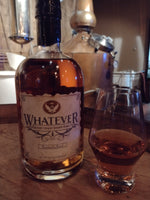 Whatever Bourbon Whiskey-Bottled In Bond
Bourbon lovers we present WHATEVER Kentucky Straight Bourbon Whiskey-100 Proof!
78% corn, 13% rye and 9% barley
Kentucky Straight Bourbon Whiskey- True Blue Kentucky bourbon aging in the Green River Distilling rickhouses since 2016. Bottled in partnership with Silent Brigade Distillery.
To be labeled as bottled-in bond, bourbon has to be the product of one distillation season by one distiller at one distillery. It must have been aged in a federally bonded warehouse under U.S. government supervision for at least four years and bottled at 100 proof- 50% alcohol by volume.
ABV 50% 100 Proof / 75 CL
SHOP WHATEVER BOURBON
FANS...or whatever!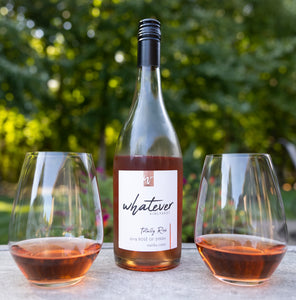 Backyard Bliss in Detroit
"Crisp and refreshing, bottom line-delicious!" @ehallock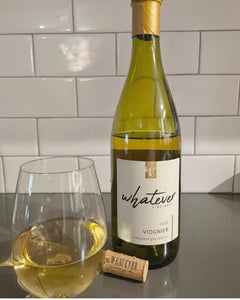 White wine lover in California
"Cheers! We're loving Whatever Vineyards first white wine!" @karaschertz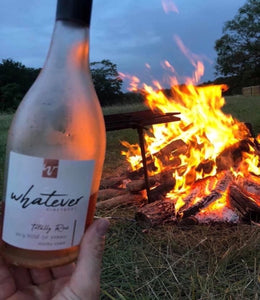 Camping in Austin, Texas
"Good times with good wine!" @brucewade1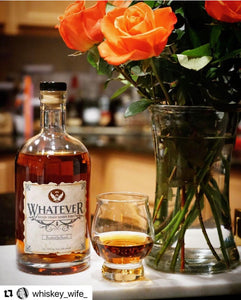 Whiskey Wednesday's in California
"Time to celebrate, or not. It's Whatever, bottle in bond caramel deliciousness!"  @whiskey_wife_
"A full-bodied wine, the flavor is really robust and it bursts in your mouth subtly...it's really good wine!"

2019 Whatever Syrah @nmgibney California
"A true sippin bourbon with a lot of heft behind the punch. Nice caramel color with notes of dried fruits and brownies"

Whatever Bourbon Whiskey @thewineraconteur Michigan
"Whatever Vineyards produced its first harvest and we were really lucky to get a bottle before they SOLD OUT! Crisp, delicious and a hint of smokiness."

2019 Whatever Totally Rosé @enterthedragans Florida